ENERGY ALU-HOLZ 78mm profile
---
---
Description
---
ENERGY ALU-HOLZ 78mm Energy efficiency rating of ENERGY ALU-HOLZ 78mm windows has been increased by 30% by using glass with thermal conductivity coefficient of U=0,7 (to compare with ALU-HOLZ 68mm windows with U=1,1). ENERGY ALU-HOLZ 78mm windows, with their outstanding technical parameters and natural look, fit perfectly to modern construction buildings as well as to those more traditional design buildings.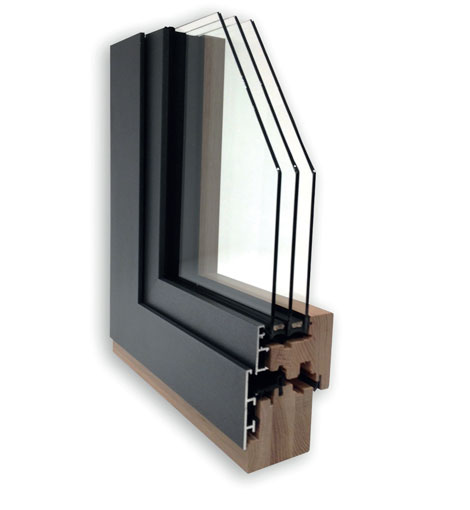 ---
Construction
Aluminium – wooden profile.
Wooden frame thickness 78mm + 18,5mm aluminium profile from the outside.
Any shape and size of the window available.
Material
Pine, meranti or oak plus aluminium.
Acoustic insulation
Acoustic insulation at Rw=32-39dB (depending on the selected glazing unit)
Glazing
Standard
Triple glazing unit - 4/14/4/14/4 – double chambered system.
Thermal insulation glass of Ug = 0,7 W/m2k.
Inter-pane space is filled with argon gas.
The possibility of obtaining heat transfer coefficient up to 0,5 W/m2k.
Choice of any glass panes with maximum thickness of 34/40/46mm, quadrat FB of 48(+1)/54(+1)/60(+1). Distance frame is offered as standard.
Extra insulation frame matching window colour is also available.
Fittings
Standard multi point G-U fittings with micro ventilation and anti-burglar catch. Optional fittings with extra safety class are available:
RC 1 minimum of four anti-forcing catches in a window,
RC 2 all anti-forcing catches applied in a window.
Optional use of sash turn limiter, limited tilt, a balcony latch.
Opening method
R (turn), U (tilt), RU (tilt and turn).
Colour
Coating colours from RAL palette or azure colour (emphasizing wood structure) from a catalogue of transparent colours.
The same colour from the inside and outside as standard.
Optional double colour: RAL/azure, azure/RAL.
A four-layer coating system: impregnation and triple painting.
Seals
As one of very few in Poland we use two seals Q-LON (inside and outside applied) as standard. The core is made of polyurethane foam, outer coating of polyethylene is weatherproof, resistant to UV radiation and pollution. Compatible with cleaning agents.
Available colours:
brown
white
black
grey
beige
light oak
chestnut
Drip cap
Aluminium drip cap available in colours:
white,
golden,
silver,
brown,
olive.
Optional aluminium drip cap covered by wood – matching window colour (RAL or azure) and aluminium drip cap available in colour from a RAL palette (matching window colour).
Silicone
Silicone colour matches wood colour:
transparent
white
black
chocolate brown
pine
rustik oak
dark brown
walnut
mahogany
Handles
SECUSTIK® handles of HOPPE company are available in colours:
white (F9016),
brown (F8077),
silver (F1),
BRONZE Anodized,
titanium (F9).
Optional: A handle with a key or a button in colours:
white (F9016),
brown (F8077),
silver (F1),
antique gold (F4),
titanium (F9).